I grew up in a Christian family in Westerville, Ohio. My mom frequently hosted neighborhood Bible clubs in our home. On one particular day, the woman who was teaching the Bible lesson forgot her visuals, and the assistant pastor showed up "just to observe the Bible club." The teacher was extra nervous and quickly cut crosses out of a brown paper bag to serve as her pictures for the lesson of Jesus' death on the cross.
The simple illustrations did not hinder God from bringing me to Himself. I understood I was a sinner and deserved punishment in hell (Romans 6:23a "For the wages of sin is death."). I also understood that God sent His only Son to die so that I didn't have to pay the price for my own sins (Romans 6:23b "The free gift of God is eternal life through Jesus Christ our Lord."). I asked God to forgive my sins and purposed to live my life for Him. He has made all the diff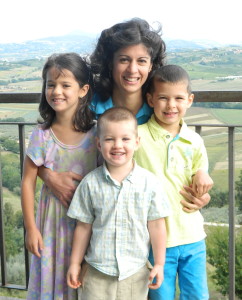 erence in my life.
I am thankful that God does not need an eloquent speaker or perfect delivery for His message to be effective—He can even use me!
I earned a three-year diploma from the Bible Institute of Ohio in Biblical Studies and went on to earn a BA in Humanities and an MA in Church Ministries from Bob Jones University. I also had the privilege of working in the Gospel Fellowship Association home office for six years as an administrative assistant.
My personal interests include playing sports (particularly volleyball), graphic designing, writing (things like blog articles), crossing "stuff" off my to-do list, singing with my kids (and a loud CD), praying with another individual (even though it still makes me nervous), discussing the Bible (with believers and unbelievers), and spending time one-on-one with friends (especially my husband).